3 Key Business Lessons the Air Force Taught Me
When I share lessons I've learned, I often talk about my years in the business world—from the boss who gave me a shot at UPS, to the company that erupted in (and recovered from) scandal, to my position now as an advisor to a portfolio of companies, including Launch Consulting. But all the building blocks that got me where I am today are stacked on top of the foundation laid by my first job out of high school: the Air Force. 
My family has a long history of serving our country in the armed forces. My dad was in the Navy. My son, I'm proud to say, currently serves in the Army. All of us enlisted right out of high school. And all of us have learned lessons from military service that will impact our careers forever.   
3 key business lessons I learned in the Air Force
1. Build your adaptability muscle. 
The military has a unique way of dropping you into situations that don't have a clear path forward. You can and should rehearse drills until they're so entrenched that you could do them in your sleep, but many circumstances don't have an answer as obvious as "Enter and Clear a Building." When you encounter them, you need to be able to:
Take a breath.
Think it through.
Weigh your options.
Prioritize potential outcomes.
Take action.
The ability to adapt and take action to move forward in an uncertain situation is key for everyone in business, not just leaders. It's not instinctive for most people—it's something to practice just as hard as any other skill. Putting in the work to become more adaptable also cultivates your critical thinking skills and your resilience in challenging circumstances.  
2. THE MISSION DOESN'T SUCCEED WITHOUT THE TEAM. 
As a military member, you understand that you are surrounded by a military family. Your responsibility is not just to see yourself through the endeavor, but to see your family through the endeavor. The Airman's Creed—the fundamental statement of values for each member of the Air Force—ends this way: 
I am an American Airman: 
Wingman, Leader, Warrior.  
I will never leave an Airman behind,  
I will never falter,  
And I will not fail. 
I've talked before about the perception of "family" in business and the importance of finding a healthy work home. When I talk about a work family, I don't mean that everyone should be in each other's personal business all the time. What I mean is that we support, defend, and challenge one another, and that we bring everyone to the finish line together.
When you approach a project, think of it this way: We have a customer that we're caring for. We have team members that we're caring for. And we have a responsibility to think about the outcome and make sure everybody sees the benefit in the work that we're doing.
If we never leave our team behind, we won't falter, and we won't fail.
In the military, the most effective teams are small fighting forces that can move quickly, independently of major resources. When you think of how the military operates, you probably picture a behemoth like the 256-person Macedonian phalanx.
3. FOCUS ON SMALL TEAMS FOR GREATEST IMPACT. 
Modern military units, though, break down to 8-10-person elements or squads—and even teams within those squads. Why? Small teams allow for greater agility, a larger field of coverage, and results that outpace the collective size of the group.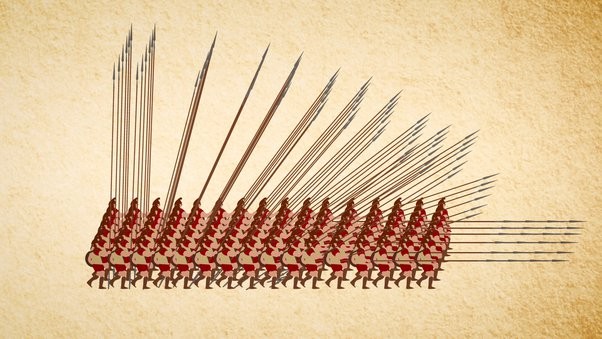 As a leader, I've tried to embody that in my teams. I've noticed that when we start to get a little bit heavy, with too many cooks in the kitchen, projects stall. Everyone has good thoughts, everyone has good ideas…but they're not able to exercise those ideas because there are conflicting or competing interests.  
If you notice that happening, break those teams down. (There's a reason I champion the power of 3—not the power of 30!) Let those smaller units advance on their own, with the strategic intent of meeting at the finish line together with success. 
THE MISSION CONTINUES
I'm proud of our position as a Veteran Owned and Veteran Hiring Company. It's an honor to serve the people in our organization alongside former Army Ranger John Sercu and our entrepreneurial cofounder Fred Michanie. As you recognize the veterans in your life today, ask them what they learned from their service and what they're passing down as leaders in the private sector. And if you are a veteran, share your best pieces of military wisdom in the comments! 
Happy Veterans Day to all who are serving today and to all who served before.